DENVER – (Aug. 25, 2008) – Over 1,200 adults and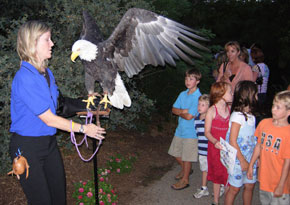 children strolled through the gardens, enjoyed a barbeque dinner, listened to jazz, saw and learned about raptors from Birds of Prey at the 8th annual Perry & Co. client appreciation party held at the Denver Botanic Gardens on August 13, 2008.
The party, supported by all 60 REALTORS® in the company, has become a tradition – clients and agents alike plan their summers around the date. "I have clients asking me in June when the party is going to be," says Chuck Anderson, a 30-year veteran agent.
Traditionally held in August, over the years the party has been hosted at some of the city's best scientific and cultural facilities, such as the Denver Zoo, Denver Museum of Nature and Science and of course, the Botanic Gardens. Many agents like the Gardens best because of the layout – with a large amphitheatre in the center of the Gardens – which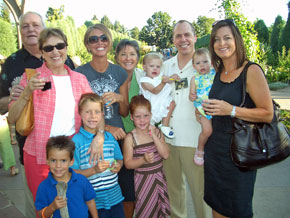 allows them to find and spend time with their clients – not always an easy feat with 1,200 people enjoying themselves.
The party has followed the same lines since its inception: no sales, just fun. "This is truly an evening for friends, family and having a good time," says Don Larrance, President of Perry & Co. "Our purpose is to say "thank you" to our clients. Period." The party includes dinner, drinks, a live band and usually something fun for the kids to do. This year, small magnifying glasses and bingo cards – with flowers and bugs – were handed out along with glow-in-the-dark bracelets. Many guests reported that the most fun they had was watching all the children roll down the grassy hills of the amphitheatre then run back up and do it again.
Perry & Co. agents serve on a party committee starting in February to work out the location, children's activities, menu and band selection. Design for the invitation begins early so that agents can send the invites out and receive RSVPs in time to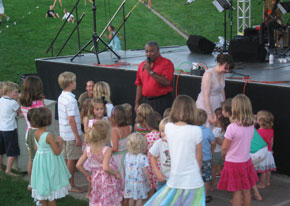 follow-up with clients they may not have talked to in a long time. "Even those clients that aren't able to attend always appreciate being invited," says Jon Larrance, VP of Perry & Co.
This year, since Perry & Co. has become the Regent for the Denver metro area, many of the other Regents and Associate Regents from Colorado were invited to the party: Regents from Boulder, Telluride and Vail were able to attend. Jeannie Hauff, of Slifer, Smith & Frampton in Vail said she "was promised a good time, and Perry & Co. didn't disappoint! Your company did a terrific job for customers and guests alike."
Share this:
StumbleUpon
Digg
Filed under: Denver Colorado Real Estate, Information For Realtors, Perry & Co. Agents, Perry & Co. Events
  |  
Leave a

Comment
Tags: Birdhaus Bash, Chuck Anderson, Client Appreciation, Denver, Denver Botanic Gardens, Denver Colorado Real Estate, Denver Real Estate, Don Larrance, Jon Larrance, Perry & Co
Be the first to like this post.
---
---
Pages

Categories

We're blogging about…

Recent Posts

Partner Blogs

Caribbean Islands Blog Caribbean Islands Realty
East Bay Real Estate San Francisco Real Estate
Lawrence Realty Squaw Valley Ski Area (Lake Tahoe) Real Estate
Leading Real Estate Companies of the World The LeadingRE Real Estate Beat
LuxuryRealEstate.com Most Viewed Luxury Real Estate Website In The World
Marquette Turner Australian Luxury Homes
Marquette Turner Asia/Pacific Luxury Homes
Reality Sense Spain, Algarve, Tuscany & Switzerland Real Estate
Rimontgo Luxury Homes in Spain

Perry & Co Agent Blogs

Courtney Ranson
Kirk Hartshorn

Archives

Follow Perry & Co. VP Jon Larrance

I just invented Hot Chocolate Egg Nog - now that's sweet and thick. 15 hours ago
RT @GuacamoleU In defense of Cilantro Haters - it's a genetic thing! http://nyti.ms/bKytqO #HolyGuacamole 3 days ago
You've waited long enough! Here's Perry & Co's 2010 #Thanksgiving Help List http://wp.me/plP75-Es Everything you need in one place! #Recipes 4 days ago
RT @denverwashpark Get your Trot on Denver! 37th Annual Mile High United Way Thanksgiving Day Turkey Trot at #WashPark. http://goo.gl/qFBlN 4 days ago
RT @scanlifeinfo Here's another cool thing you can do with ScanLife app. Scan a product and buy online... http://fb.me/v2AAFac3 4 days ago

Follow Perry & Co on Facebook

FB.init("109f41a9e56dff3b4dbbd4772757f3df");

Perry & Co. Real Estate Professionals on Facebook

Blog Stats