Archive Page 17
DENVER – (Aug. 25, 2008) – Over 1,200 adults and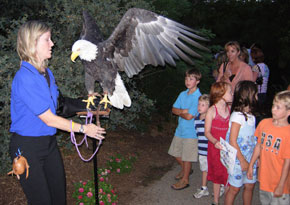 children strolled through the gardens, enjoyed a barbeque dinner, listened to jazz, saw and learned about raptors from Birds of Prey at the 8th annual Perry & Co. client appreciation party held at the Denver Botanic Gardens on August 13, 2008.
The party, supported by all 60 REALTORS® in the company, has become a tradition – clients and agents alike plan their summers around the date. "I have clients asking me in June when the party is going to be," says Chuck Anderson, a 30-year veteran agent.
Traditionally held in August, over the years the party has been hosted at some of the city's best scientific and cultural facilities, such as the Denver Zoo, Denver Museum of Nature and Science and of course, the Botanic Gardens. Many agents like the Gardens best because of the layout – with a large amphitheatre in the center of the Gardens – which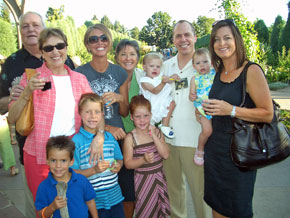 allows them to find and spend time with their clients – not always an easy feat with 1,200 people enjoying themselves.
The party has followed the same lines since its inception: no sales, just fun. "This is truly an evening for friends, family and having a good time," says Don Larrance, President of Perry & Co. "Our purpose is to say "thank you" to our clients. Period." The party includes dinner, drinks, a live band and usually something fun for the kids to do. This year, small magnifying glasses and bingo cards – with flowers and bugs – were handed out along with glow-in-the-dark bracelets. Many guests reported that the most fun they had was watching all the children roll down the grassy hills of the amphitheatre then run back up and do it again.
Perry & Co. agents serve on a party committee starting in February to work out the location, children's activities, menu and band selection. Design for the invitation begins early so that agents can send the invites out and receive RSVPs in time to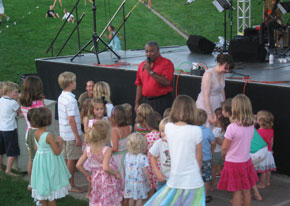 follow-up with clients they may not have talked to in a long time. "Even those clients that aren't able to attend always appreciate being invited," says Jon Larrance, VP of Perry & Co.
This year, since Perry & Co. has become the Regent for the Denver metro area, many of the other Regents and Associate Regents from Colorado were invited to the party: Regents from Boulder, Telluride and Vail were able to attend. Jeannie Hauff, of Slifer, Smith & Frampton in Vail said she "was promised a good time, and Perry & Co. didn't disappoint! Your company did a terrific job for customers and guests alike."
Filed under: Denver Colorado Real Estate, Information For Realtors, Perry & Co. Agents, Perry & Co. Events
  |  
Leave a

Comment
Tags: Birdhaus Bash, Chuck Anderson, Client Appreciation, Denver, Denver Botanic Gardens, Denver Colorado Real Estate, Denver Real Estate, Don Larrance, Jon Larrance, Perry & Co
Denver 06/01/2008
Barb Perry, Associate Regent and one of Perry & Co. top producers is featured in the June/July issue of Denver Woman magazine's Women in Business section.  The article, entitled "Is Now the Time? – Buying real estate in Colorado" featured five top producing agents in the Denver market discussing issues of importance to buyers and sellers today.  Barb says she is seeing more momentum in today's market – more phone calls, showings and contracts beginning to come.  All the Realtors interviewed said that now is a great time to buy because there is an incredible inventory to choose from, homes are in great condition and interest rates are still very favorable.  See Barb on pg. 72.
Filed under: Perry & Co. Agents
  |  
Leave a

Comment
Tags: Barb Perry, Denver, Denver Colorado Real Estate, Perry & Co
SEATTLE – The Luxury Real Estate Board of Regents announced that it has elected a dozen new members to the Executive Committee, its leadership body. This committee represents some of the finest brokers in the world. First formed in December 2006, the Executive Committee members act as leaders for real-estate brokers and firms around the world and also guide the Board of Regents program.
"The Executive Committee serves as council to me and my staff on the direction of the Board of Regents program. They refer new members and consult on new program concepts," said John Brian Losh, CEO and publisher of LuxuryRealEstate.com, and CEO, chairman and broker of Ewing & Clark, Inc., Seattle's oldest real-estate brokerage.
The Board of Regents is a prestigious affiliation of luxury brokers, and it is the governing body of the global Luxury Real Estate network. It is comprised of 85 brokerage firms representing more than 600 offices and 1,700 luxury real estate professionals from around the world. Each Board of Regents member is selected by his or her qualifications and commitment to the Luxury Real Estate brand.
Each member of the Executive Committee is voted on by his or her peers from the Board of Regents. The following 12 brokers will serve on the Executive Committee through April 2009:
Ann Chiasson (returning member), president/broker of Sea to Sky Premier Properties in Whistler, British Columbia.
Bob Melvin, broker/owner of Gasparilla Properties in Boca Grande, Fla.
Diane Turton, president/broker of Diane Turton, Realtors in Point Pleasant Beach, N.J.
John Daugherty, Jr., founder/president of John Daugherty Realtors in Houston.
Jon Larrance, vice president of Perry & Co. in Denver.
Patricia Choi (returning member), president/principal broker of Choi International in Honolulu, Hawaii.
Patricia Petersen, president/CEO of Daniel Gale Sotheby's in Long Island, N.Y.
Patrick Kelly, vice president/broker of McBride Agency Realtors in Franklin Lake, N.J.
Philippe Furer, managing director of Furer SA in Vevey, Switzerland.
Randall Hannaway, founding partner of Colorado Realty Group in Steamboat Springs, Colo.
Rob Thomson (returning member), president of Waterfront Properties and Club Communities in Jupiter, Fla.
Tim Murray, manager of the Alain Pinel Realtors office in San Francisco.
About the Luxury Real Estate Board of Regents
The Board of Regents is an exclusive network of the world's most elite luxury real estate brokers, comprised of the most legendary names in the industry selected by Luxury Real Estate CEO John Brian Losh. The Board of Regents is the governing body of Who's Who in Luxury Real Estate, the worldwide network of luxury real estate brokerage firms. Members of the Board of Regents are marketing experts, providing innovation and unparalleled service to their clients. For more information, visit www.LuxuryRealEstate.com or www.Regents.com.
Filed under: Denver Colorado Real Estate, Information For Realtors, LuxuryRealEstate Board of Regents, Perry & Co. Agents, Perry & Co. Staff
  |  
Leave a

Comment
Tags: Denver Colorado Real Estate, Denver Real Estate, John Brian Losh, Jon Larrance, Luxury Real Estate, LuxuryRealEstate Board of Regents, Perry & Co, Regents
The following article appeared in the April/May 2008 issue of Denver Woman magazine.  Written by Wendell Fleming.
The Director of Marketing for Perry & Co. and mother of two, Lorrie Grillo is a more recent convert to mountain climbiing. While she has always loved to hike, she thought that climbing fourteeners was for hard-core mountaineers, "not for a regular Jane like me," she says with an impish grin.
"The reason I even climb fourteeners is because my friends thought that I could do it. I did it the first time to see if I could. And the great thing about climbing is that I've gotten more confidence that I can do it. I've watched and learned," says Lorrie, who has now climbed 18.
She expounds, "Once you climb a fourteener and you're standing on top and breathing for what feels like the first time in months, you feel like you can do anything." She loves the silence at the summit, listening to the wind and the camaraderie of climbing with friends. She also loves the way her body feels afterward, when she's stiff and tired and desperate for her traditional post-hike latte and cookie.
For Lorrie, climbing fourteeners has become "one of those positive addictions" that has allowed her to push herself physically and mentally and has given her an openness to trying new things.
Lorrie would advise first timers to find a friend who has climbed before and to be sure to get the right equipment, which can make all the difference (see sidebar). She explains, "Climbing got so much easier with a camelback. I could drink constantly while walking, instead of having to stop all the time to take a drink from a water bottle – that made me feel I was lagging behind."
Most of her fears, like not knowing how to climb over rocks or scree, or worry that she might have vertigo, were unfounded. But she has had some scary moments. The last pitch of Mt. Harvard, just below the summit, entails a scramble using hands and toes to get over an exposed rock face. "I was stumped," Lorrie says. "I really wanted to do it, but I also had that fear of not having the skill to handle that rock face. A man from California saw the predicament I was in and not only talked me through, but offered me his hand."
She was relieved, because she almost stopped there. "That would have been OK," she is quick to add. "Wherever you get is wonderful – there is no defeat involved on a fourteener!"
Lorrie says, "Climbing fourteeners is just a total gift I give to myself. I leave work the afternoon before and take this day totally for me. The great thing about getting into the mountains is that its made me feel like a Coloradoan in a way I never had before. Climbing fourteeners has enabled me to say, after living here for 23 years, 'I am an outdoorswoman."
Filed under: Perry & Co. Staff
  |  
2 

Comments
Tags: 14ers, Denver Colorado Real Estate, Denver Real Estate, Lorrie Grillo, Perry & Co, Positive Attitude
Rarely in my twenty-five years of selling luxury real estate have I seen a home as beautifully restored and renovated as 137 High Street in Denver.
No expense was spared nor detail overlooked in the quest to bring this glorious Classic Revival style home back to life after years of neglect. The 16,600 square foot grounds feature five distinct entertaining and recreation environments including a glistening pool retreat, a contemplative oasis with mesmerizing "sky mirror" fountain and a phenomenal wraparound terrace for al fresco entertaining. Outdoor lighting, restored flagstone terraces and an exterior sound system encourage your guests to linger.
Doug Walter Architects and armies of artisans refined and redefined every facet of this home's hidden potential. An outdated servants' kitchen gave way to an enormous chef's delight, complete with top of the line appliances, custom cabinetry, expansive granite countertops. Informal gathering spaces open to the kitchen, as well as a large, beautifully appointed breakfast room. The formal, paneled dining room affords entertaining on a grand scale as does the beautifully proportioned living room with restored dentil molding and wainscoting and carved mantle.
On the second level, four bedrooms, complemented by two full baths and a secondary laundry, service family needs. The new master retreat, resting over a gigantic four-car garage, offers custom cherry walk-in closet, seating area next to the remote-controlled fireplace and a spa-inspired bath with spa tub and multi-headed shower. The addition received the award for the "Best Sympathetic Addition" for 2008 from Historic Denver, Inc. 
A tree-top third level offers a sixth bedroom, artist's studio, workout room or use your imagination. The remodeled lower level offers the second laundry, fit for a queen, a temperature-controlled wine cellar complete with hand-carved antique doors, a billiard room, bedroom and bath.
All new electrical and lighting components, new plumbing, steel piers, full-scale heating and cooling upgrades, comprehensive security and media systems, hand-wrought iron work, Mediterranean stucco, restored windows and more brought this gem to life. From the moment you pass thorough the entry gate, you feel the warmth and comfort of the "high" life to come.
137 High Street is being marketed exclusively by Barb Perry, Perry & Co. Real Estate Professionals. For more information on this exquisite property, please contact Barb Perry at 303.881.8781 or at
Filed under: Homes For Sale, Luxury Homes For Sale, LuxuryRealEstate Board of Regents, Perry & Co. Agents
  |  
Leave a

Comment
Tags: Barb Perry, Denver, Denver Colorado Real Estate, Denver Real Estate, Luxury Homes For Sale, Luxury Property, Luxury Real Estate, LuxuryRealEstate Board of Regents, Perry & Co
Many of you have noticed that some Perry & Co. Agents have the title "Associate Regent," in addition to Broker Associate, printed on their business cards.  This term may be foreign to you, and you've probably wondered why you don't see it on other Denver real estate companies' business cards.
When Perry & Co. was selected to become the exclusive Denver Regent for the Who's Who in Luxury Real Estate Board of Regents, we were given the opportunity to appoint our company Associate Regents.  Our criteria was well-defined; Perry & Co. Associate Regents Claire Averill, Kim Hutchins, Corrie Lee, Betsy Lutz, Karen Nichols, Pam Parker, Barb Perry, Tammy Phillips, Courtney Ranson, Amy Shonstrom, Cindy Webb & Peggy White were chosen primarily because of their knowledge of the global luxury real estate market. 
Luxury properties require innovative marketing strategies in order to target the ultra-discriminating buyer.  The lessons learned by working with luxury real estate sellers, and buyers, can only be had through this specialized experience.  Additionally, Perry & Co. Associate Regents are committed to networking with the most elite luxury real estate professionals regionally, nationally and internationally.  Because of their understanding of real estate markets around the world, they think of themselves as being Global Realtors. 
In fact, twice a year at the LuxuryRealEstate.com conferences Associate Regents from all over the world get together to talk about their markets and their luxury clients' particular needs.  These relationships are crucial in exposing local luxury properties to potential luxury buyers worldwide.  Perry & Co. Associate Regents have the ability to look at the big picture.  They have the ability to tailor their services to the individualized needs of their clients.  Perry & Co. Associate Regents are simply the best of the best.
Click here to read more about Perry & Co's affiliations within the Board of Regents, as well as, how Perry & Co. markets luxury properties worldwide.
Written by Perry & Co Vice President Jon Larrance
Filed under: Denver Colorado Real Estate, Information For Realtors, LuxuryRealEstate Board of Regents, Perry & Co. Agents, Perry & Co. Services
  |  
Leave a

Comment
Tags: Amy Shonstrom, Barb Perry, Betsy Lutz, Cindy Webb, Claire Averill, Corrie Lee, Courtney Ranson, Denver, Denver Colorado Real Estate, Global Realtor, Jon Larrance, Karen Nichols, Kim Hutchins, Luxury Real Estate, LuxuryRealEstate Board of Regents, Pam Parker, Perry & Co, Tammy Phillips
The business of real estate is changing rapidly.  Obviously the internet and the current global economic situation have had a huge impact on every business.  Consumers are much more informed, and, they can get the information they want at their leisure.  However, today's online consumer is also inherently impatient – rightly so.  If you can't deliver the service they desire in a timely manner (within minutes) than they will find someone who can.  Needless to say, they can find that other person in mere minutes.  Service today is defined by instant gratification. 
To that end, Perry & Co. established its "Internet Lead Team."  Most real estate companies have a system for addressing internet leads but we think ours' is unique.  Most of our competitors' systems rely on handing the lead down an assigned chain.  Such that if the first person in the chain doesn't respond in 10 minutes, the lead gets handed to the next person in line, and so on and so on.  When a lead comes though the Perry & Co. system, a text message gets sent to all the members of our Internet Lead Team.  The first respondent receives the lead.  On average, five agents respond to the lead notification text message within 30 seconds.  Thus the consumer is responded to regularly within two minutes of submitting a request.  This response comes from a licensed Perry & Co. real estate professional, not some third party virtual assistant who is contracted to incubate leads.
The Perry & Co. Internet Lead Team is committed to the following principles: To always have their email enabled SmartPhone on their persons, and to responding to any lead within minutes – no excuses. The Perry & Co. Internet Lead Team members are: Claire Averill, Carla Bartell, Dave Browning, Michele Brumelle, Brad Colburn, Gina Cornelison, Brooke Granville, Kim Hutchins, Corrie Lee, Katie Nicholson Millice, Tammy Phillips, Courtney Ranson, Mary Sullivan-Ridge & Peggy White.  The members of this team are specialists in utilizing the latest technologies available to today's real estate professional.
Don't misunderstand us, the business of real estate is still all about relationships.  But how people foster and cultivate those relationships has changed dramatically.  Rest assured that we recognize that behind every internet lead is a human being who is asking for service.  At Perry & Co. we are committed to providing a unique customer experience, one which emphasizes extraordinary service.
Written by Perry & Co Vice President Jon Larrance
Filed under: Denver Colorado Real Estate, Information For Realtors, Perry & Co. Agents, Perry & Co. Services
  |  
Leave a

Comment
Tags: Brad Colburn, Brooke Granville, Carla Bartell, Claire Averill, Corrie Lee, Courtney Ranson, Dave Browning, Denver Colorado Real Estate, Denver Real Estate, Gina Cornelison, Internet Lead Team, Jon Larrance, Katie Nicholson Millice, Kim Hutchins, Mary Sullivan-Ridge, Michele Brumelle, Michele Castilian, Perry & Co, Tammy Phillips
---
Pages

Categories

We're blogging about…

Recent Posts

Partner Blogs

Caribbean Islands Blog Caribbean Islands Realty
East Bay Real Estate San Francisco Real Estate
Lawrence Realty Squaw Valley Ski Area (Lake Tahoe) Real Estate
Leading Real Estate Companies of the World The LeadingRE Real Estate Beat
LuxuryRealEstate.com Most Viewed Luxury Real Estate Website In The World
Marquette Turner Australian Luxury Homes
Marquette Turner Asia/Pacific Luxury Homes
Reality Sense Spain, Algarve, Tuscany & Switzerland Real Estate
Rimontgo Luxury Homes in Spain

Perry & Co Agent Blogs

Courtney Ranson
Kirk Hartshorn

Archives

Follow Perry & Co. VP Jon Larrance

I just invented Hot Chocolate Egg Nog - now that's sweet and thick. 23 hours ago
RT @GuacamoleU In defense of Cilantro Haters - it's a genetic thing! http://nyti.ms/bKytqO #HolyGuacamole 4 days ago
You've waited long enough! Here's Perry & Co's 2010 #Thanksgiving Help List http://wp.me/plP75-Es Everything you need in one place! #Recipes 4 days ago
RT @denverwashpark Get your Trot on Denver! 37th Annual Mile High United Way Thanksgiving Day Turkey Trot at #WashPark. http://goo.gl/qFBlN 4 days ago
RT @scanlifeinfo Here's another cool thing you can do with ScanLife app. Scan a product and buy online... http://fb.me/v2AAFac3 5 days ago

Follow Perry & Co on Facebook

FB.init("109f41a9e56dff3b4dbbd4772757f3df");

Perry & Co. Real Estate Professionals on Facebook

Blog Stats